Sibanye-Stillwater's Keliber lithium project aims to develop a sustainable operation to produce battery-grade lithium hydroxide, an essential component in lithium-ion batteries.
Sibanye-Stillwater's acquisition of Keliber is in line with our aim to develop a unique global portfolio of green metals and energy solutions to reverse climate change. Lithium is essential to reducing global CO2 emissions.
Located in Finland, the Keliber project is strategically positioned close to critical and growing regional end-user battery markets for lithium hydroxide in Europe.
Finland's reliable and sound economic and social infrastructure make the country an attractive investment destination. A National Battery Strategy outlines national objectives for Finland to be a competitive and sustainable player in the global battery sector. The country is, furthermore, optimally located to supply the growing European battery market.
Keliber owns several advanced lithium deposits, covering an area of more than 500km² in Central Ostrobothnia, in western Finland on the Gulf of Bothnia. The lithium deposits of Central Ostrobothnia, first identified in the late 1950s, are among the most significant in Europe.
The Keliber project is emerging as a scalable district opportunity. Sibanye-Stillwater is committed to further exploration to extend the area's resource potential.
Development of the Keliber project will deliver significant benefits to both the national fiscus and to regional stakeholders – the project will entail meaningful local investment and support for regional suppliers and be a source of employment. Around 500 people will be involved in the construction phase of the Keliber project, approximately half of them at the Keliber lithium hydroxide refinery, with steady state employment estimated at around 300 people (including contractors). See Sustainability.
Keliber aims to be the first integrated high-purity lithium operation, producing lithium hydroxide chemicals from its own mined ore reserves. Estimated annual production of approximately 15,000 tonnes of battery-grade lithium hydroxide monohydrate will supply the growing international lithium battery market for at least 16 years.
Critical success factors for the project include technical manufacturing readiness, having the necessary approved project and operating permitting in place and signed offtake agreements.
OWNERSHIP
The shareholders of Keliber Oy are Sibanye-Stillwater (79.8%), the Finnish Minerals Group (20%), a state-owned company tasked with managing the mining holdings of the Finnish state, and a group of Finnish shareholders (0.2%).  See announcement published on 25 April 2023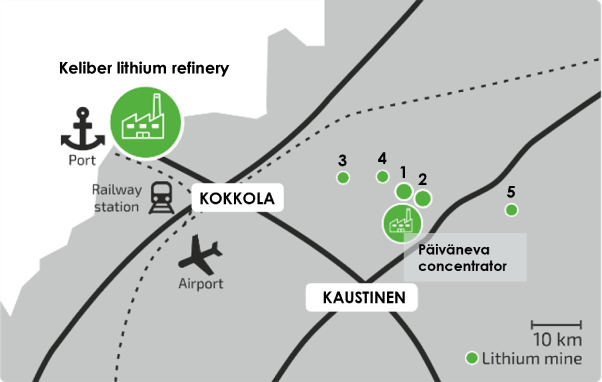 The five proposed mining sites are:
Syväjärvi
Rapasaari
Emmes
Outovesi
Länttä