Sibanye-Stillwater is committed to the safe and environmentally responsible stewardship of our tailings storage facilities. Tailings facilities store a mine's primary waste stream. Without proper management, these facilities can pose a significant risk to the natural and social environment. Catastrophic tailings facility failures can devastate the environment and destroy lives and livelihoods. Such catastrophic failures are unacceptable, and Sibanye-Stillwater is dedicated to ensuring that systems, standards and resources are in place to prevent failures.
Sibanye-Stillwater is on a journey of continual improvement in health, safety, and environmental performance with the ultimate goal of zero harm. The Company is dedicated to minimising human and environmental risk associated with its tailings storage facilities. The goal of zero harm from tailings facilities encompasses both physical and chemical performance objectives including zero catastrophic failures of our tailings storage facilities and no significant adverse effects on the environment or human health.
MORE INFORMATION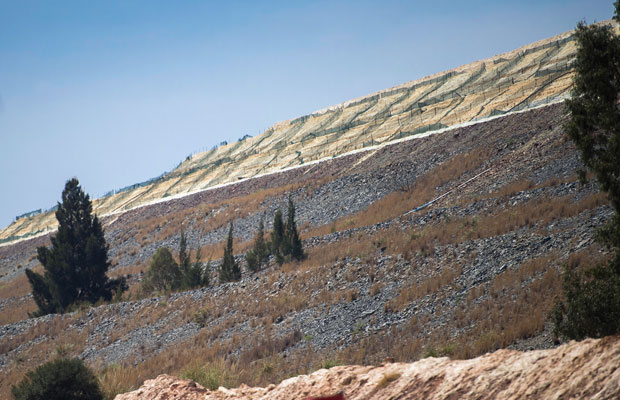 Tailings storage facilities by region
Sibanye-Stillwater is committed to transparency regarding the safety and integrity of our TSFs. This includes submissions required by organisations such as the Church of England Pensions Fund and the ICMM.
The Global Industry Standard for Tailings Management details specific aspects regarding the management and status of TSFs required in such disclosures. Details of our managed TSFs are listed by region below. Individual fact sheets summarising details of the TSF and the current status determined through independent reviews are provided. Any material risks and the related mitigation measures are discussed. For the purpose of these fact sheets, "material" is defined as a risk or event that may have a short or long-term impact on the integrity of the facility requiring mitigation.
SA gold operations

Operation
TSF name/ map link
Coordinates
Status
Consequence Classification
(GISTM, 2020)
Hazard Classification
(SANS 10286:1998)
Risk exposure
Operating methodology
Date commissioned
Life of TSF
Current max height
Fact sheet
1
Beatrix
BTX1 (Beatrix Dormant TSF compartment)
-28.28695, 26.7704111
Inactive Care and Maintenance
Extreme
High
L
Upstream,
Day-wall
1983
N/A
30
Download
2
Beatrix
BTX2 (Beatrix Active TSF compartment)
-28.2736972, 26.7716583
Active
Extreme
High
L
Upstream,
Day-wall
2002
2029 @1,5m/year
25
Download
3
Beatrix
BTX4 (Oryx TSF)
-28.188975, 26.7037361
Inactive Care and Maintenance
Significant
High
L
Upstream,
Day-wall
1981
N/A
20
Download
4
Burnstone
Burnstone TSF
-26.6224333, 28.6782361
Inactive Care and Maintenance
High
Low
L
Upstream,
Day-wall
2010
N/A
15
Download
5
Cooke Mine
Cooke TSF
-26.2434528, 27.749525
Inactive Care and Maintenance
High
Medium
L
Upstream,
Day-wall
1977
N/A
45
Download
6
Driefontein
Driefontein 1 TSF
-26.2434528, 27.749525
Active
Extreme
High
L
Upstream,
Day-wall
1972
2036 @1,5m/year
62
Download
7
Driefontein
Driefontein 2 TSF
-26.3705278, 27.5026583
Active
Extreme
High
L
Upstream,
Day-wall
1972
2034 @1,5m/year
52
Download
8
Ezulwini
Ezulwini North TSF
-26.35345, 27.7256778
Active
Extreme
Medium
L
Upstream,
Day-wall
1982
2035 @2m/year
30
Download
9
Kloof
Kloof TSF 2
-26.4434417, 27.5908444
Active
High
High
L
Upstream,
Day-wall
1960
Dec 2022 @1,5m/year
65
Download
10
Leeudoorn
Leeudoorn TSF
-26.4601028, 27.5680028
Active
Extreme
High
L
Upstream,
Day-wall
1982
Upper: 2046 @1,5m/year
Lower: 2060 @1,5m/year
Upper: 32.5
Lower: 38
Download
11
Cooke Mine
Millsite Complex (38, 39, 40, 41, valley dam)
-26.1317444, 27.7018139
Inactive Care and Maintenance, Dam 38 undergoing remining
Significant
Medium
L
Upstream,
Day-wall
1900
N/A
50
Download
12
Ezulwini
Ezulwini South TSF (Cooke 4)
-26.3811667, 27.7197667
Inactive Care and Maintenance
Low
Medium
L
Upstream,
Day-wall
1959
N/A
36
Download

SA PGM operations

Operation
TSF name/ map link
Coordinates
Status
Consequence Classification
(GISTM, 2020)
Hazard Classification
(SANS 10286:1998)
Risk exposure
Risk description and mitigation measures
Operating methodology
Date commissioned
Life of TSF
Current max height
Fact sheet
13
Limpopo Operations
Baobab 1
-24.3698, 29.4712
Active
Very High
Medium
L
Upstream, Spigot
2002
2029 @2.5m/yr
22
Download
14
Marikana operations
Eastern Plats TD1
-25.6870, 27.6042
Re-mining
N/A
N/A
L
Upstream, Spigot
1989
Oct-04
36
15
Marikana Operations
Eastern Plats TD2
-25.6872, 27.5957
Active
Extreme
High
M
Instability, extensive seepage.
Mitigation measures: A drained buttress has been constructed along 80% of the outer wall. No further concerns have been experienced.
Upstream, Spigot
2002
2027 @2,5m/yr
36
Download
16
Rustenburg Operations
Hoedspruit
-25.6727, 27.4097
Active
Very High
High
L
Upstream, Spigot
2004
2044 @2,5m/year
40
Download
17
Kroondal Operations
K1 (K1 Concentrator)
-25.71306, 27.3296
Active
Extreme
High
L
Upstream, Spigot
1999
2026 @2m/year
38
Download
18
Kroondal Operations
K150 (K1 Concentrator)
-25.7164, 27.35163
Active
Extreme
High
L
Upsteam, Cyclone
2001
2026 @2m/year
60
Download
19
Kroondal Operations
K2 (K1 Concentrator, K2 Concentrator in emergency)
-25.71688, 27.3604
Active
Extreme
High
L
Upstream, Spigot
2005
2026 @2,7m/year
70
Download
20
Marikana operations
Karee 1
-25.6815, 27.4522
Inactive Care and Maintenance
High
High
L
Upstream, Spigot
1989
N/A
37
Download
21
Marikana Operations
Karee 2
-25.6769, 27.4460
Active
Very High
High
L
Upstream, Spigot
2001
2026 @1.3m/yr
32
Download
22
Marikana Operations
Karee 3
-25.6769, 27.6769
Active
Very High
High
L
Upstream, Spigot
2002
TD3A: 2024 @1.5m/yr, TD3B: 2024 @2.1m/year
33
Download
23
Marikana Operations
Karee 4
-25.6498, 27.4491
Active
Very High
Medium
L
Upstream, Spigot
2008
2045 @1.3m/yr, 2043 @1.5m/yr
17
Download
24
Limpopo Operations
Blue Ridge TSF
-25.24845, 29.574672
Dormant
High
Low
L
Upstream, Spigot
2009
2010
9
Download
25
Kroondal Operations
Marikana (K2 Concentrator)
-25.732519, 27.40939
Active
Very High
High
M
Seepage on NW & West flank.
Mitigation measures: Phase 4 of the buttress was completed mid-February 2023. No further concerns have been experienced.
Upstream, Spigot
1999
2030 @2m/yr
27
Download
26
Rustenburg Operations
Paardekraal Central
-25.6373, 27.3171
Active
Extreme
High
L
Upstream, Spigot
1983
2026 @2.5m/year, 2031 (extension) @2.5m/year
62
Download
27
Rustenburg Operations
Paardekraal PK4
-25.6273, 27.3053
Active
Extreme
High
L
Upstream, Spigot
2007
2069 @2.5m/year
23
Download
28
Rustenburg Operations
Paardekraal PK5
-25.6457, 27.3271
Active
Extreme
High
L
Upstream, Spigot
2008
2069 @2.5m/year
36
Download
29
Platinum Mile
Waterval East
-25.6676, 27.3166
Re-mining
N/A
N/A
L
Upstream, Spigot
2004
N/A
30
Platinum Mile
Waterval West
-25.6642, 27.3131
Re-mining
N/A
N/A
L
Upstream, Spigot
N/A
31
Marikana operations
Western Plats TD1
-25.7085, 27.5093
Inactive Care and Maintenance
High
High
L
Upstream, Spigot
Pre 1980
N/A
23
Download
32
Marikana operations
Western Plats TD2
-25.7149, 27.5269
Inactive Care and Maintenance
High
High
L
Upstream, Spigot
Pre 1980
2034 @2.5m/yr
34
Download
33
Marikana operations
Western Plats TD5
-25.6968, 27.5264
Inactive Care and Maintenance
Extreme
High
L
Upstream, Spigot
1980
Nov-17
63
Download
34
Marikana Operations
Western Plats TD6
-25.6745, 27.5582
Active
Extreme
High
L
Upstream, Spigot
2000
2030 @2.5m/yr
36
Download
35
Marikana operations
Western Plats TD7
-25.7020, 27.5409
Inactive Care and Maintenance
High
High
L
Upstream, Spigot
1992
N/A
23
Download

US PGM operations

TSF name/ map link
Coordinates
Status
Consequence Classification
(GISTM, 2020)
Hazard Classification
(CDA, 2016)
Risk exposure
Operating methodology
Date commissioned
Life of TSF
Current max height
Reports
36.
East Bolder TSF
45.5059, -110.0850
Active
Very high
Significant
L
Impoundment, Spigot
2001
2030
44
More…
37.
Nye TSF
45.3856, -109.8759
Utilised for water management
Very high
Significant
L
Impoundment, Spigot
1986
N/A
30
More…
37.
Herzler TSF
45.4533, -109.7861
Active
Extreme
Significant
L
Impoundment, Spigot
2002
2030
54
More…
38.
Lewis Gulch
45.512811, -110.095811
Under Permitting
Extreme
Significant
Impoundment, Spigot
2030
2043
More…
REFERENCES